Year 6 Open Evening 2022- Thursday 16th June
Discover our academy using the Virtual Tour
Click here to start your tour, take the next step on your learning journey by entering the World of Winifred Holtby Academy.
Let our state of the art facilities, enthusiastic staff and exciting learning opportunities speak for themselves.
Welcome to Winifred Holtby Academy.
We want your child to be confident as they start their secondary education and ensure this by having in place a team of dedicated staff.
A warm welcome from the Headteacher
MR BROWN
"At Winifred Holtby Academy we work hard to bring out the best in everyone by providing a learning culture that enables every student to achieve well, be successful and be ready to take on the next stage in their life.
We have high aspirations for every student at the academy and we are determined that no child should be left behind.
As an academy at the heart of its community, we believe that we can only be successful if we work in true partnership with our students, their parents/carers and the wider community.
At Winifred Holtby Academy we strive for excellence in everything we do. We aim to ensure that every student receives the best education possible in a calm and purposeful environment.
We are very proud of the work we do but we are not complacent and we are constantly striving to be better. By working together we will achieve our aims, provide the best education for every student and prepare them well for life beyond the academy."
Incredibly proud of our students' achievements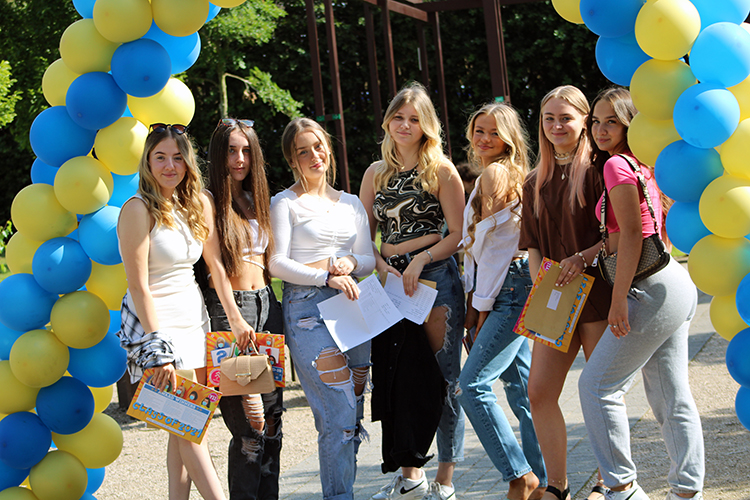 We are incredibly proud of our Year 11 students' achievements. There have been some outstanding individual achievements across the full ability range, with many students making much better progress than expected. This year's results are a reflection of the hard work and commitment of the students and the staff.
Our Vision and Values
The academy provides a safe and welcoming environment that supports and encourages an ethos of
ASPIRATION, ACHIEVEMENT, RESPECT.
We will be the academy of choice for students, parents, carers and staff through academic excellence. All students will make positive progress, which will enable freedom of choice for their progression beyond the academy. By working in partnership with parents, carers and the wider community, we will ensure that students leave Winifred Holtby Academy as independent and resilient individuals.
We are determined to deliver continuous improvement by achieving excellence in all that we do. Our students will be proud of their outcomes, safe and confident in the knowledge that they are equipped with the skills required for life, future learning and employment.
We will embrace diversity through mutual respect for each other and an understanding of our differences.
Students are expected to make an active, positive contribution to academy life and beyond. Winifred Holtby Academy's positive reputation will ensure that we are a valued member of the community we serve.
Learning and Growing
We strive to provide a rich and appropriately challenging learning experience from day one; an experience that is stimulating and engaging, one that provides students with the opportunity to excel, to be successful and be ready and equipped to take on the next stage of their life.
Curriculum
What will I study ?
Students in Years 7 study a broad, balanced and challenging curriculum which provides every student with the knowledge and understanding required to progress to Key Stage 4 and to choose some of the specialist subjects that they want to study to GCSE or Diploma level. All Year 7 students study English, Maths, Science, History, Geography, French or Spanish, PSHE, Philosophy and Ethics, P.E, Art, Creative and Performing Arts and Design Technology, (including food). Check our virtual tour to have a look at the different subject areas in the academy. What will I study at Winifred Holtby Academy?
More about our curriculum, please click here
What are the teachers like ?
Our teachers are specialists in the subject areas that they teach. All of our staff share the academy ethos of Aspiration, Achievement and Respect – they want our students to be the best that they can and achieve great things whilst prompting a culture of mutual respect. Our teachers aim to make all learning interesting and relevant. Check our virtual tour to meet some of our teachers and find out what they say about their subject.
How does the academy support young people towards future success?
Our Learner Profile programme has been noted by Ofsted as a successful strategy for developing the skills and qualities that young people will need in their futures. Every Year 7 student works on their Learner profile skills in all of their lessons with weekly focus lessons linking skills to ambitions and aspirations. Our careers programme start in Year 7, exceeding the requirements of the Gatsby benchmarks. We encourage our students to realise what they can achieve from the outset. As the students move into higher year groups they benefit from business and industry presentations and workshops. The academy has excellent partnership links with all of our local Colleges and Sixth Forms. We offer guaranteed Sixth form places at all of the East Riding schools in the Consortium Academy Trust. Our students also benefit from an NHS careers partnership offering clear pathways into a vast range of medical and scientific roles.
Personal development, welfare and safety are as important to us as learning. The academy offers a comprehensive PSHCE programme which includes all aspects of social, relationship and welfare education as well as a range of key adult skills such as financial education, the law and British values.
To learn more about our Careers programme click here
What about extra-curricular activities?
Winifred Holtby provides a wide range of extra–curricular activities for students to take part in. There are sports clubs for all students covering all mainstream sports and a number of other exciting opportunities in sports such as trampolining. Creative and performing arts offer Theatre, music, dance and art clubs all of which are well attended. Some students choose to attend subject based clubs such as maths club, philosophy or Spanish.